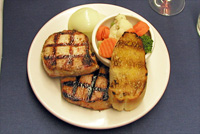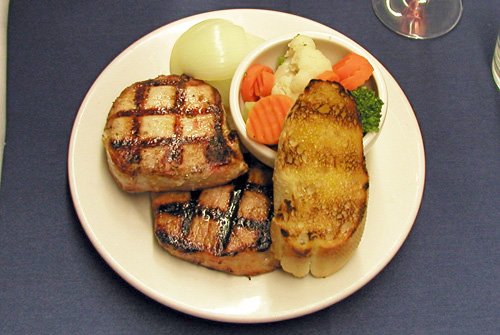 Dinner Menu
Tuesday–Thursday 5pm–9pm
Friday & Saturday 5pm–10pm
Phone 919-718-1103
Fax 919-718-1108
Also served During Lunch Hours!
• Reservations Welcome
• Gift Certificates Available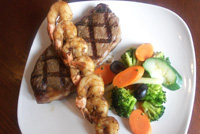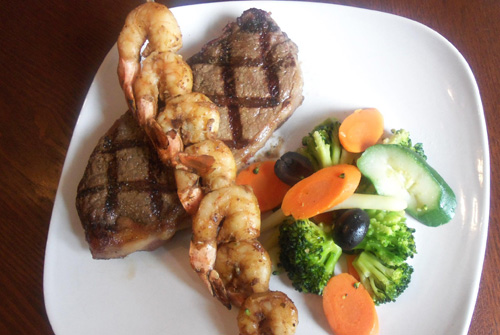 Appetizers
Ahi Tuna
Seared, then sliced and served with wasabi, pickled ginger & soy sauce 9.99
Bruschetta
Diced roma tomatoes, garlic, red onion, feta cheese, parmesan cheese and basil
on top of toasted French bread, drizzled with balsamic vinegar 7.99
Lobster Scampi
Langastino lobster meat baked in garlic butter, white wine, lemon juice & parsley
Topped with parmesan & bread crumbs and served with toast French bread 9.99
Shrimp Skewer
Tiger shrimp grilled to perfection and lightly brushed with garlic butter 8.99
Spinach Artichoke Dip
A creamy, cheesy spinach and artichoke blend, topped with grated parmesan cheese
and served with toasted French bread 8.99

Entrées
All of our entrée prices include a side of your choice of baked potato, sweet potato or
a steamed vegetable medley of cauliflower, broccoli, and carrots.
(You may choose Grilled Asparagus as your side for an additional $1.00)
Each entrée also includes a salad, toasted French bread, steamed Vidalia onion slices
and a non-alcoholic beverage.
Ribeye
Eight ounces of Choice Omaha grain-fed Angus beef that has been aged to perfection
and cut tableside to your specifications 23.50
* 1.50 for each additional ounce
Filet Mignon
A nine ounce thick cut of the most tender Omaha grain-fed Angus beef
that is seasoned and grilled to your specifications 28.95
Chicken Breast
A whole boneless, skinless chicken breast, marinated and seasoned with roasted garlic
and Italian herbs 17.99
Yellow Fin Tuna
Sushi-grade marinated tuna steak, lightly brushed with garlic butter 18.99
Grilled Kabobs
Two kabobs with your choice of ribeye steak or chicken, pineapple, green pepper, red onion and tomato,
served with your choice of baked or sweet potato and toasted French bread 18.99

Kids Menu
(12 and under only)
Also served During Lunch Hours!
Ribeye or Chicken
Four & one half ounces of marinated boneless chicken breast or
Choice Omaha Grain-fed Angus beef, seasoned & grilled and served with your choice of
baked potato, sweet potato, vegetable medley or salad, and toasted French bread 10.95
Steak Burger
Eight ounces of fresh ground ribeye, seasoned and grilled,
served on a kaiser roll with chips & a dill pickle 8.99
Grilled Cheese
Your choice of cheese (Swiss, Cheddar, or American) on your choice of white, wheat or rye bread
buttered and grilled to a golden brown 4.99